Why You Need an Expert
Why You Need an Expert To Determine the Right Price for Your House
Do you need an expert to sell your home? If your lifestyle has changed recently and you're ready to make a move, taking advantage of today's sellers' market might be just the answer for your summer plans. With homes continuing to get multiple offers, this could be your moment to get the contract you're looking for on your house if you're ready to sell.
And here's the thing – you need an expert on your side to ensure you make all the right moves when you do, especially when it comes to pricing your house. Even in this competitive market, you can't stick just any price tag on your home and get the deal you want. A key piece of the puzzle is setting the right asking price so you can help buyers notice your home (and get excited about it) from the very first time they view the listing. That's where a real estate professional comes in.
Why Pricing Your House Right Is Important
The price you set for your house sends a message to potential buyers. Price it too low and you might raise questions about your home's condition or lead buyers to assume something is wrong with the property. Not to mention, if you undervalue your house, you could leave money on the table which decreases your future buying power.
On the other hand, price it too high, and you run the risk of deterring buyers. When that happens, you may have to do a price drop to try to re-ignite interest in your house when it sits on the market for a while. But be aware that a price drop can be seen as a red flag for some buyers who will wonder why the price was reduced and what that means about the home.
In other words, think of pricing your home as a target. Your goal is to aim directly for the center – not too high, not too low, but right at market value. Pricing your house fairly based on market conditions increases the chance you'll have more buyers who are interested in purchasing it. That makes it more likely you'll see multiple offers, too. And if a bidding war happens, you'll likely get an even higher final sale price. Plus, when homes are priced right, they tend to sell quickly.
To get a look into the potential downsides of over or underpricing your house and the perks that come with pricing it at market value, see the chart below: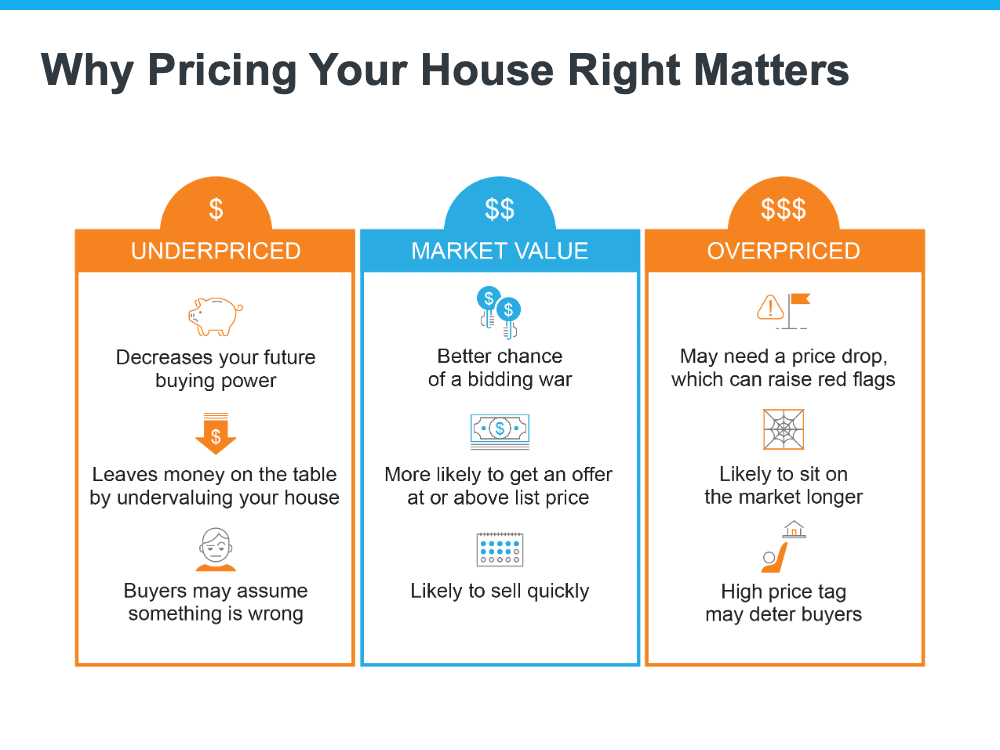 Lean on a Professional's Expertise
There are several factors that go into pricing your house, and balancing them is the key. That's why it's important to lean on an expert real estate advisor when you're ready to move. A local real estate advisor is knowledgeable about:
The value of homes in your neighborhood
The current demand for houses in today's market
The condition of your house and how it affects the value
A real estate professional will balance these factors to make sure the price of your house makes the best first impression and gives you the greatest return on your investment in the end.
Bottom Line
If you're thinking about selling, pricing your house appropriately is key. Let's connect to make sure your house is priced right for the local market, for your home's condition, and to stand out from the competition.
Southwest Florida Real Estate Trends
Naples Golf Guy Monthly Market Report
Golf Community Homes Just Listed
Considering Selling Your Naples Home? Why Work with an Experienced Real Estate Agent
With almost 20 years of experience helping sellers with their golf community real estate needs, we would like to share our strategy for how we're helping maximize the number of offers homeowners are receiving and ultimately higher sales prices.
Our team is committed to extraordinary customer service with an emphasis on detail and frequent communication.
We collaborate with our sellers to design and implement a customized marketing campaign to present your property to the world. We are dedicated to making the sales process easier for you and your family.
We would very much like to meet you and learn about your home and help provide a stress-free selling environment for you and your family.
Call, text, or email us today for a complimentary market analysis – 239-370-0892.
Results You Can Count On
The Naples Golf Guy Team is committed to extraordinary customer service with an emphasis on detail. Professionalism, integrity and discretion are not goals, they are standards. We collaborate with our sellers to design and implement a customized marketing campaign to present your property to the world. If you are a buyer, we are committed to helping you find the community which will allow you to live the ultimate Florida lifestyle in Paradise.
or at 239-370-0892
June 10th, 2022 Posted by NaplesGolfGuy