Leverage Your Home Equity
Leverage Your Home Equity
How can you leverage your home equity in today's market? Home values have increased significantly over the past year. With low inventory, home values and home equity continues to rise.
Now is a great time to cash in on this booming seller's market and use your home equity to move up into your dream home, downsize into your forever home or buy a vacation home.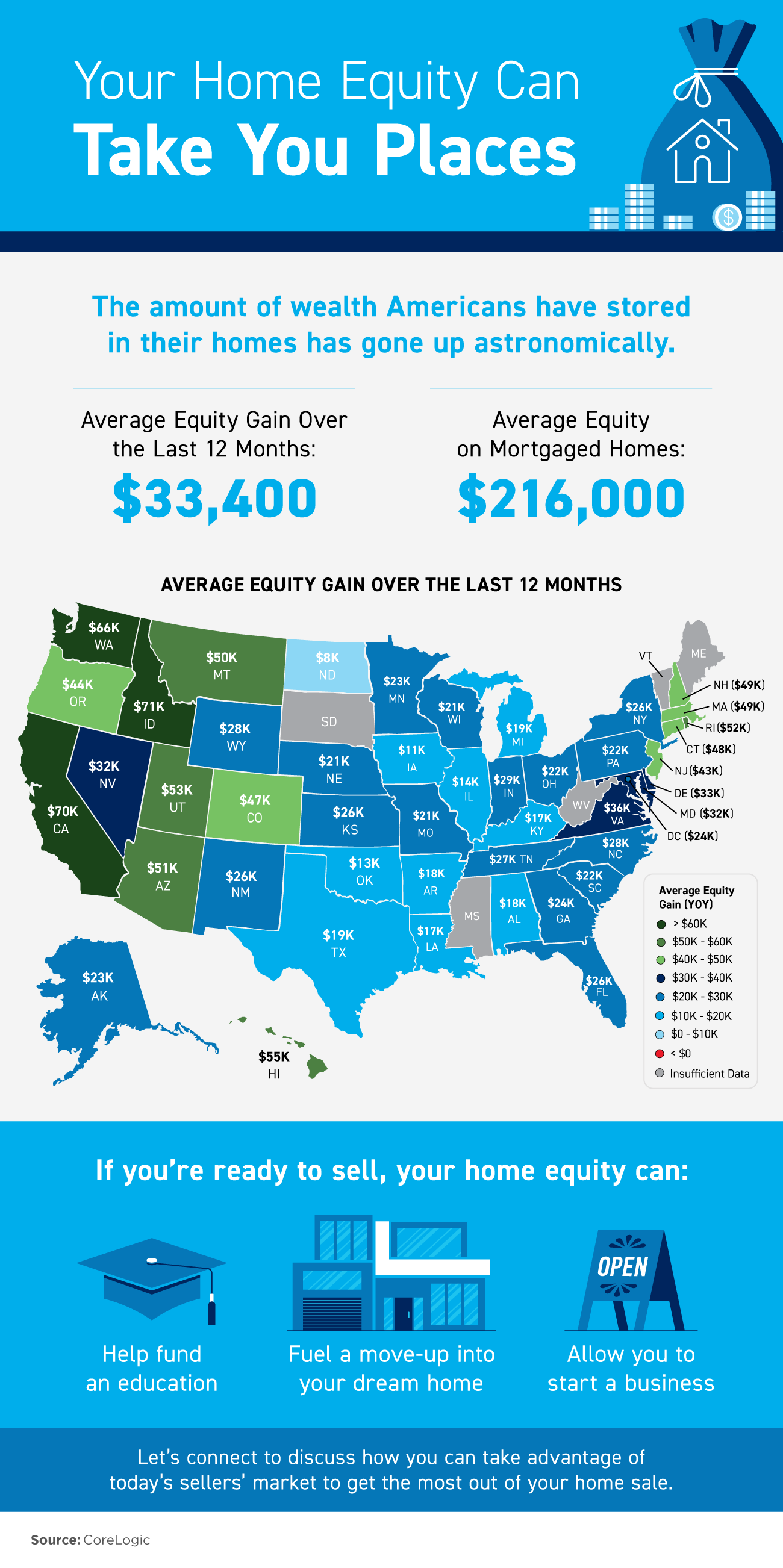 Some Highlights
The amount of wealth Americans have stored in their homes has increased astronomically.
On average, homeowners gained $33,400 in equity over the last 12 months, and the average equity on mortgaged homes is now $216,000.
When it's time to sell, your home equity can help accomplish your goals. Let's connect to discuss how you can take advantage of today's sellers' market to get the most out of your home sale.
If you have been thinking about selling your home, let's connect to discuss the value of your property in today's market. There's a good chance it is worth more than you think!
If You're Planning to Sell, Why Work with an Experienced Real Estate Agent
It is a seller's market so why should you work with a realtor? Do you have the time? There are over 180 actions required to successfully complete a real estate transaction. From scheduling showings, contract negotiations, organizing inspectors, attorneys, title companies and a mountain of paperwork.
In today's rapidly changing market, it's you'll want to be sure you have priced your home correctly to capture the largest return on your investment. You also need to be sure you have a digital game plan and an effective online marketing strategy when selling your home. One of the ways your agent can help with this is to make sure your listing photos and virtual tours stand out from the crowd, truly giving buyers a detailed and thorough view of your home.
So, if you're ready to move forward, virtual practices may help you win big when you're ready to sell. While abiding by state and local regulations is a top priority, we can help make your sale happen. We know exactly what today's buyers need, and how to put the necessary digital steps in place. For example, according to the same survey, when asked to select what technology would be most helpful when deciding on a new home, here's what today's homebuyers said, in order of preference:
Virtual tour of the home
Accurate and detailed listing information
Detailed neighborhood information
High-quality listing photos
Agent-led video chat
Paperless transactions
Now more than ever, an agents presence on the internet is critical to selling your home. Let's connect to talk about how we would leverage new real estate technology such as virtual tours and high end photography, e-mail marketing, social media marketing and much more.
Finally, if you live in a golf community in southwest Florida, you are competing with more than 150 other golf communities.  Contact us today to learn how your home or condo stacks up against the competition and how we can position your property to sell quickly and for a fair price.
Should I Use a Realtor or Sell on My Own?
The NaplesGolfGuy Team offers private client advisory services with an emphasis on detail.  Professionalism, integrity and discretion are not goals, they are standards. We are dedicated to exploring, experiencing and navigating the very best in luxury living for our clients.
or at 239-370-0892
July 9th, 2021 Posted by NaplesGolfGuy