Home Price Deceleration
Home Price Deceleration Doesn't Mean Home Price Depreciation
What does the recent home price deceleration mean to the real estate market? Experts in the real estate industry use a number of terms when they talk about what's happening with home prices. And some of those words sound a bit similar but mean very different things. To help clarify what's happening with home prices and where experts say they're going, here's a look at a few terms you may hear:
Appreciation is when home prices increase.
Depreciation is when home prices decrease.
Deceleration is when home prices continue to appreciate, but at a slower pace.
Where Home Prices Have Been in Recent Years
For starters, you've probably heard home prices have skyrocketed over the past two years, but homes were actually appreciating long before that. You might be surprised to learn that home prices have climbed for 122 consecutive months (see graph below):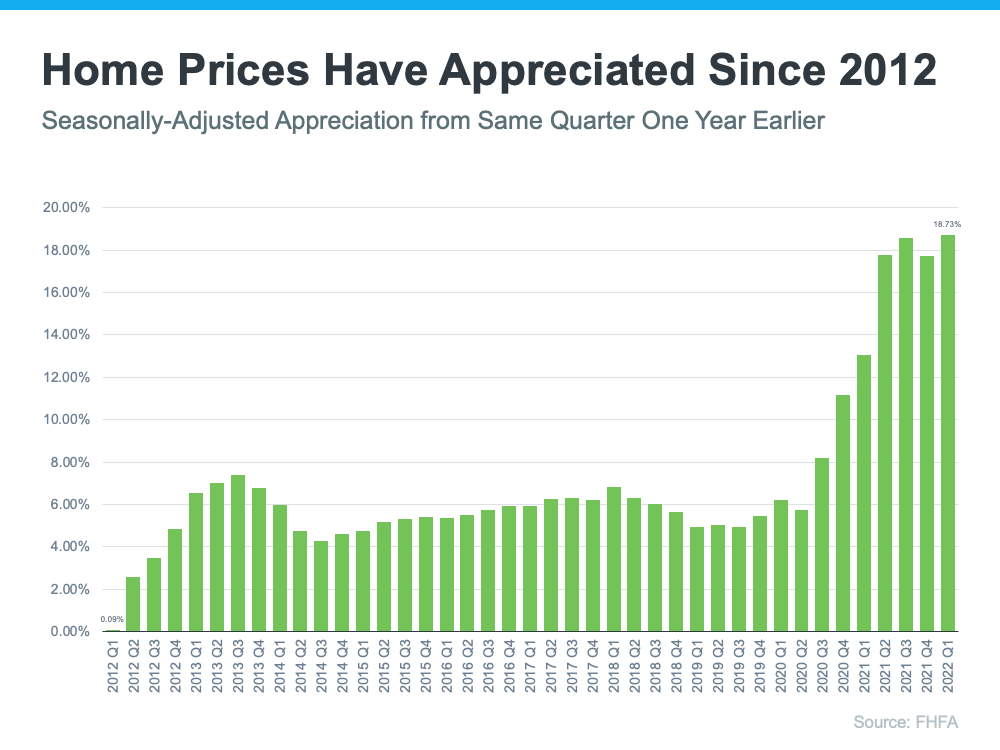 As the graph shows, houses have gained value consistently over the past 10 consecutive years. But since 2020, the increase has been more dramatic as home price growth accelerated.
So why did home prices climb so much? It's because there were more buyers than there were homes for sale. That imbalance put upward pressure on home prices because demand was high and supply was low.
Where Experts Say Home Prices Are Going
While this is helpful context, if you're a buyer or seller in today's market, you probably want to know what's going to happen with home prices moving forward. Will they continue that same growth path or will home prices fall?
Experts are forecasting ongoing appreciation, just at a decelerated pace. In other words, prices will keep climbing, just not as fast as they have been. The graph below shows home price forecasts from seven industry leaders. None are calling for prices to fall (see graph below):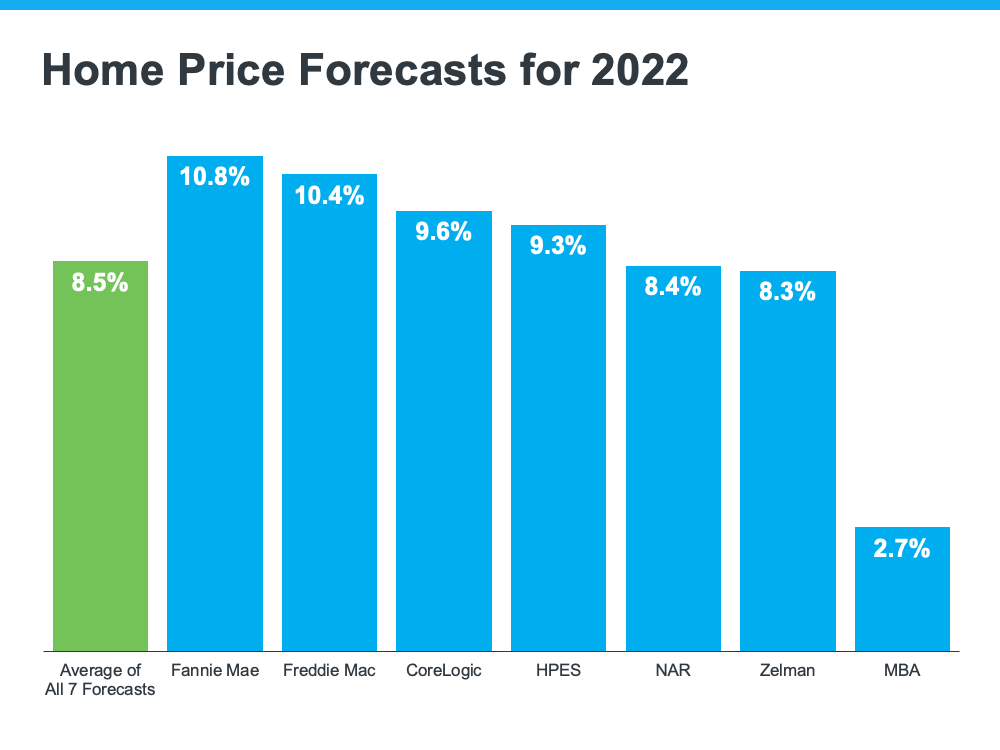 Mark Fleming, Chief Economist at First American, identifies a key reason why home prices won't depreciate or drop:
"In today's housing market, demand for homes continues to outpace supply, which is keeping the pressure on house prices, so don't expect house prices to decline."
And although housing supply is starting to tick up, it's not enough to make home prices decline because there's still a gap between the number of homes available for sale and the volume of buyers looking to make a purchase.
Terry Loebs, Founder of the research firm Pulsenomics, notes that most real estate experts and economists anticipate home prices will continue rising. As he puts it:
"With home values at record-high levels and a vast majority of experts projecting additional price increases this year and beyond, home prices and expectations remain buoyant."
Experts forecast price deceleration, not depreciation. That means home prices will continue to rise, just at a slower pace. Let's connect so you can get the full picture of what's happening with home prices in our local market and to discuss your buying and selling goals.
Considering Selling Your Naples Home? Why Work with the Naples Golf Guy Team:
With almost 20 years of experience helping sellers with their golf community real estate needs, we would like to share our strategy for how we're helping maximize the number of offers homeowners are receiving and ultimately higher sales prices.
Our team is committed to extraordinary customer service with an emphasis on detail and frequent communication.
We collaborate with our sellers to design and implement a customized marketing campaign to present your property to the world. We are dedicated to making the sales process easier for you and your family.
We would very much like to meet you and learn about your home and help provide a stress-free selling environment for you and your family.
Call, text, or email us today for a complimentary market analysis – 239-370-0892.
Buying a Home in Southwest Florida
If you are buying a home in a golf community, you will find it's more complex than a typical home purchase.  As you can probably imagine, there are significant differences between communities.  There are many different fee structures, membership options, pet restrictions, demographics and many other details that apply to the Southwest Florida golf communities.
How often do you want to play? How much time will you send in Naples? Are you planning to rent your property? What type of amenities are important to you and  your family? How much space do you need?
We can help you you navigate more than 150 different golf communities in our area.  Based on your needs, we'll provide a list of golf communities that will match your criteria and help you find the perfect home in the right community for you.
Also, if you are considering new construction, remember the contractor's real estate agent represents the builder's best interest, not yours.  There is no cost to you to have an agent represent you. In fact, I may be able to help you save money and negotiate for extras which the builder may not let you know about.
From the beginning of your journey to the end, we will handle all the details to make your real estate transaction smooth and stress free. Contact us today to get started.
Should I use a Realtor if I'm buying New Construction?
Results You Can Count On
The Naples Golf Guy Team is committed to extraordinary customer service with an emphasis on detail. Professionalism, integrity and discretion are not goals, they are standards. We collaborate with our sellers to design and implement a customized marketing campaign to present your property to the world. If you are a buyer, we are committed to helping you find the community which will allow you to live the ultimate Florida lifestyle in Paradise.
June 18th, 2022 Posted by NaplesGolfGuy